Replace Missing Teeth with Implant-Supported Dentures
If you are seeking a solution to missing teeth, dental implants and implant-supported restorations provide unrivaled stability and long-term results. Implant-supported dentures placed at our Sterling, VA, practice can restore function and aesthetics to your smile, improving your confidence and overall quality of life. Dr. E. Richard Hughes specializes in dental implants and is one of just 400 dentists to become a diplomate of the American Board of Oral Implantology (ABOI). He is also a fellow of the American Academy of Implant Prosthodontics and frequently speaks on national television programs as an authority on implant dentistry. When you trust your dental needs to our qualified staff, you can rest assured that you will receive the highest quality care.
With increased security, you do not have to worry about your dentures slipping out of place when you eat or speak.
A Stable, Secure Solution
Unlike traditional dentures, implant-supported dentures are affixed to dental implants, eliminating the need for dental adhesives and metal clasps. With increased security, you do not have to worry about your dentures slipping out of place when you eat or speak. In addition, you can enjoy enhanced comfort, as well as a more natural and lifelike appearance. As implants replace missing tooth roots, they serve to stabilize the jawbone and prevent deterioration. As such, they can help to protect and preserve your oral health.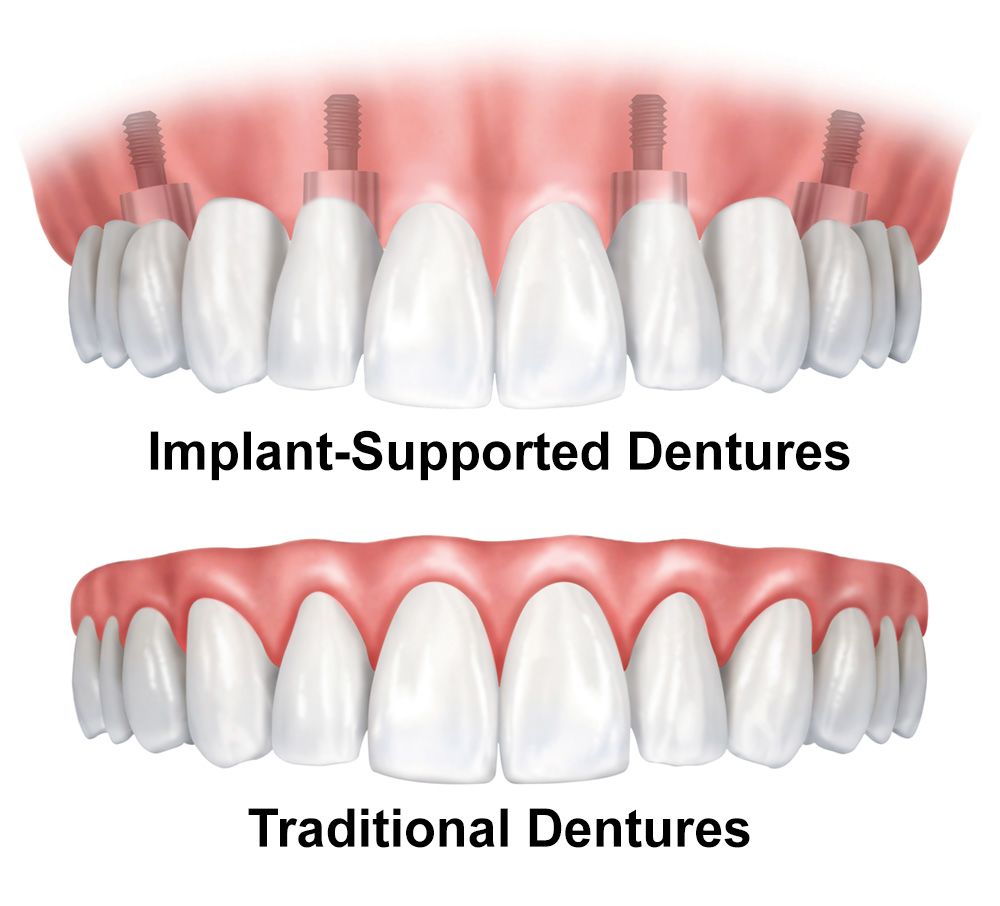 In comparison to traditional dentures, implant-supported restorations are affixed to dental implants.
The Treatment Process
The dental implant process begins with an in-depth consultation. During this appointment, Dr. Hughes can conduct a thorough examination of your smile to determine whether you are a candidate for dental implants. Patients must meet specific requirements in order to qualify for this procedure. They must be in good overall health and have sufficient jawbone tissue to support implants. If you are ineligible for treatment, Dr. Hughes can recommend procedures that may restore your candidacy, such as bone grafting.
Placing the Implants
If you proceed with treatment, Dr. Hughes will carefully place between four and eight implants in your upper or lower jaw. These implants are placed in strategic locations to provide your restorations with maximum support while also preserving your jawbone.
Healing
During the healing phase, which typically takes about three to six months, your implants will integrate with your jawbone and become a permanent part of your smile. This process creates a stable foundation for your implant-supported dentures.
Impressions
After you have healed, Dr. Hughes can take impressions of your smile. We can use these molds to craft personalized, lifelike dentures that will look and feel like natural teeth. It may take up to two weeks to fabricate your custom prosthetic.
Securing Your Custom Dentures
Once your restorations are ready, Dr. Hughes can affix your dentures to your implants, restoring full dental function. With increased security and comfort, you can once again enjoy your favorite foods and smile with confidence.
Find Out if Implant-Supported Dentures are Right for You
If you are interested in an alternative to traditional dentures, our team can provide you with a secure, long-lasting solution. We can also incorporate this treatment into a comprehensive full mouth reconstruction.To schedule your consultation with Dr. Hughes, contact our office online or call us at (703) 444-1152.