How Implant-Supported Bridges Create a Stronger Smile
Tooth loss can not only impact your ability to eat and speak normally, but it can hurt your confidence in social situations, as well. If you have suffered from the loss of two or more teeth and are looking for a permanent solution, consider implant-supported bridges. This multi-step dental treatment fills gaps in your smile and gives you a strong, sure bite so you can eat and speak with ease for decades to come.
If you're looking for tooth replacement treatment in Sterling, VA, look no further than Dr. E. Richard Hughes. Dr. Hughes is only of only 500 dentists to receive the distinction of Diplomate within the American Board of Oral Implantology and has the experience and skill to give you peace of mind during your treatment.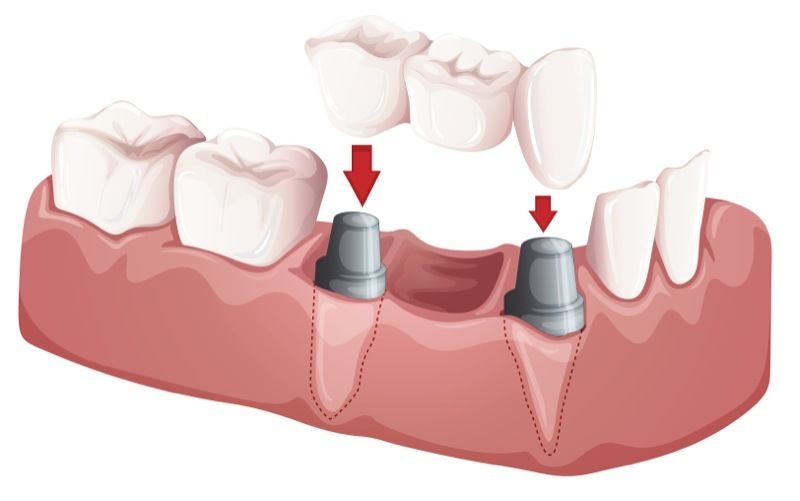 By anchoring your bridge with implants, you can extend both the durability and strength of your restoration.
Why Consider Implant-Supported Bridges?
Unlike traditional bridges which rest on top of the gums, implant-supported bridges offer a more stable bite and restore the full function of lost teeth. Patients have the freedom to eat, drink, laugh, and speak with confidence, knowing that their bridge will remain in place. Dental implants also help to strengthen and preserve bone tissue in the jaw to prevent future bone atrophy.
Dr. Hughes is widely-recognized as a leader in dental implant and implant-supported bridge treatment. As a member of the Board of Directors for both The American Academy of Implant Prosthodontics and The International Academy of Implants and Transplants, Dr. Hughes is knowledgeable about the latest treatment advances and uses innovative approaches to help his patients recover more quickly and experience greater satisfaction.
Qualifying for Treatment
Dr. Hughes will typically recommend implant-supported bridges for patients who need to replace at least two or more consecutive missing teeth. Dr. Hughes will conduct a thorough examination of your smile and medical history before asking about your expectations for treatment. He can determine whether or not this course of option is right for you.
In addition to being in good overall health, patients should also:
Be free from periodontal disease or infection
Not smoke or use tobacco products which will slow or negatively impact healing
Not have existing health conditions that impact the immune system or disrupt the natural healing process
The Procedure
Local anesthetic is administered before every surgical procedure to ensure you experience minimal discomfort. For patients who are anxious or fearful in the dentist's chair, Dr. Hughes can administer sedation so that you can relax during your treatment.
While treatments differ slightly from patient to patient, you can usually expect a similar timeline of events:
Preparatory procedures: For patients with weakened bone tissue in the jaw, Dr. Hughes may have to complete a bone graft prior to the implant procedure. Though this extra step requires additional months of healing, it is imperative for ensuring the implant has the support it needs to successfully integrate with your jaw.
Implant placement: The first step is to place dental implants in the jaw. Dr. Hughes will make an incision in the gums and anchor the implant directly into the jawbone before closing the gums back up again.
Recovery: Once the implants are attached, your body will need to go through a period of osseointegration. During this four to six-month-long process, the implants fully integrate with the surrounding bone tissue to create a strong foundation.
Abutment attachment: Abutments, or small caps, are then placed on the implant. These caps are the connectors that securely bond the bridge to the implants. Impressions may be taken at this stage in order to aid with the fabrication of the dental bridge.
Bridge placement: Once the dental bridge has been custom-made for your anatomy, Dr. Hughes will be able to fit it to your mouth and ensure a comfortable, even bite.
Contact Us
While traditional bridges are a reliable option for replacing lost teeth, you do not have to feel like they are your only option. If you are ready to put tooth loss behind you and regain a fuller smile, contact our office now or call us at (703) 444-1152 to schedule your appointment with Dr. Hughes.