Straighten Your Teeth Discreetly and Comfortably with Invisalign®
Many people avoid orthodontic treatment because they dread wearing unsightly and often painful metal braces. Fortunately, there are many teeth straightening options available today. Invisalign® can correct dental misalignments such as crowded, gapped, or unevenly spaced teeth in a more comfortable and inconspicuous manner than traditional braces. Dr. E. Richard Hughes offers this revolutionary treatment and other general dentistry procedures at our Sterling, VA, dental practice.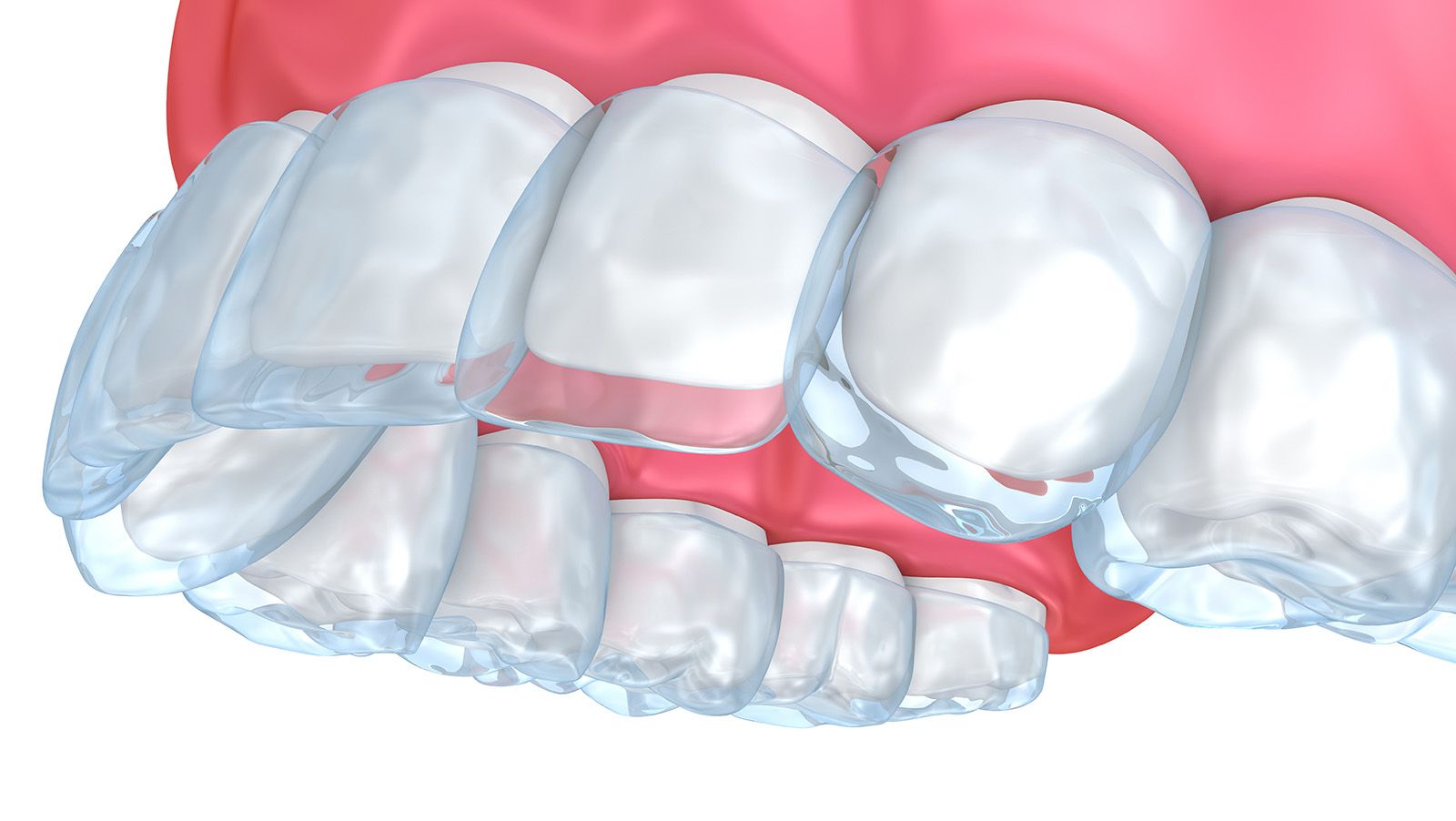 Invisalign clear plastic aligners are virtually invisible and can straighten teeth with minor to moderate misalignment.
About Invisalign
The Invisalign system straightens teeth using a series of clear, thermoplastic, BPA-free trays. Approximately every two weeks, the aligners are switched for the next ones in the series. Over time, these custom-made trays will shift your teeth into the desired positions. Best of all, Invisalign is removable, so you can eat, brush, and floss with ease.
Because each patient is unique, treatment times can vary. On average, however, this treatment can be completed in approximately nine to 18 months.
Who is a Candidate for Invisalign?
Invisalign is a popular choice among both teens and adults. You may be a candidate for Invisalign if you have:
Crowded teeth
Gaps or spacing between the teeth
Crooked teeth
Overlapping teeth
An overbite
An underbite
A cross bite
It is important to note that while Invisalign is effective for addressing mild to moderate orthodontic issues, it is not appropriate in every case. Patients with severe malocclusion may receive greater benefits from traditional braces.
Invisalign: The Treatment Process
Before beginning treatment, Dr. Hughes will take impressions of your teeth. These impressions will be sent to the Invisalign lab, where a technician will begin working on your aligners. Dr. Hughes will communicate directly with the technician. Together, they will map out a specific treatment plan based on your unique needs.
Invisalign can improve your smile just as effectively as metal braces.
When your aligner trays arrive from the lab, we will schedule an appointment for you to return to our office to try on the first set. Dr. Hughes will check the fit and provide instructions for you to begin treatment. You will need to wear your aligner trays for at least 22 hours per day. They should only be removed for meals and for brushing and flossing. Approximately every six weeks, you will return to our office so Dr. Hughes can assess your progress.
Benefits of Invisalign
Orthodontic treatment is about more than just straightening teeth. When your teeth are in proper alignment, it improves your overall oral health and preserves your smile for years to come. Upon completion of treatment, you will have a lower risk of developing tooth decay, gum disease, temporomandibular joint (TMJ) disorder, tooth erosion, and more.
Invisalign can improve your smile just as effectively as metal braces. In fact, this system offers numerous advantages over its traditional counterpart. Because the custom trays are made from clear thermoplastic, they are virtually invisible. This appeals to many teens and adults who prefer to straighten their teeth in a discreet manner. Additionally, Invisalign is sleek and comfortable. Because there are no metal brackets, bands, or wires, you will not have to worry about irritation on the inside of your cheeks and lips.
Many patients enjoy the option of removing the aligners for special occasions, such as weddings and graduations. However, this should only be done occasionally, as patient compliance is one of the most important aspects of successful treatment.
Learn More about Invisalign
If you are considering orthodontic treatment, but you want to avoid the hassle of traditional braces, Invisalign may the solution for you. To determine your candidacy, schedule a consultation with Dr. Hughes. You can do so by calling our office at (703) 454-5850 or contacting us online.