Achieve a Stronger, Healthier Jaw with Bone Grafting
After tooth loss, the jawbone can weaken and deteriorate. Before dental implants can be placed, Dr. E. Richard Hughes may need to prepare and improve the jaw's structure through a procedure called bone grafting, which can greatly increase eligibility for dental implant treatment. As an honored fellow of the American Academy of Implant Dentistry, Dr. Hughes offers unparalleled experience and skill for Sterling, VA, patients looking for tooth restoration treatment. Below, learn more about bone grafting and how this commonly performed restorative dental treatment can help you achieve optimal oral health.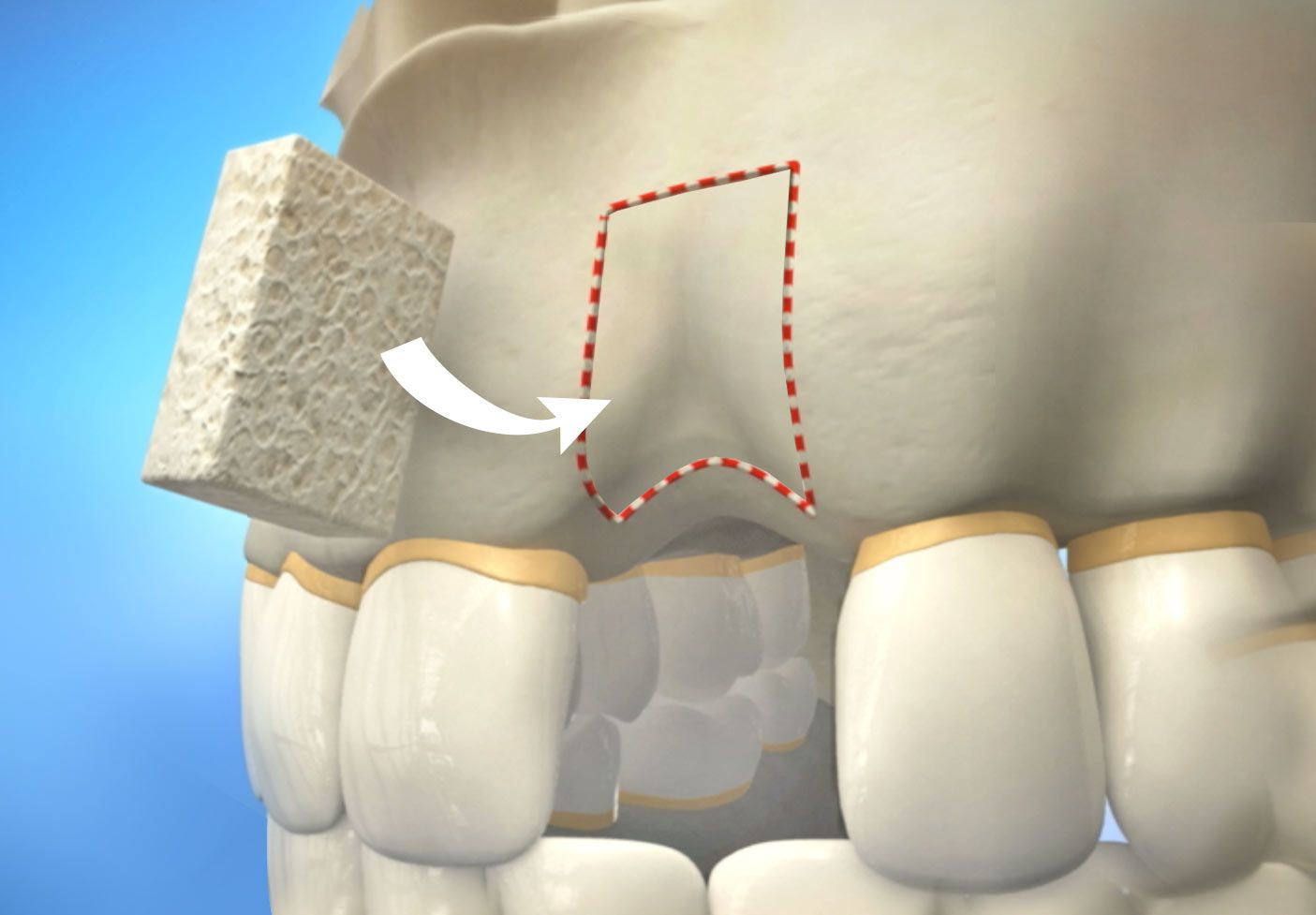 Bone grafting adds support to a weakened area of the jawbone.
The Benefits of Bone Grafting
The jawbone and teeth have a close connection, both helping to improve the strength and vitality of the other. When tooth loss occurs, the jawbone can suffer, losing density in the space around the missing tooth root. A bone grafting procedure improves bone density, giving dental implants a firm foundation. Patients who undergo bone grafting can benefit from:
High success rates:Bone grafting treatment is highly successful, and implant procedures with grafted and non-grafted bone have very similar success rates.
Minimal discomfort:Advanced surgical techniques combined with Dr. Hughes' 20 years of experience in implant dentistry reduce the risk of post-operative pain and discomfort.
Lasting strength:Successful bone grafting, along with healthy oral hygiene, can deliver permanent results.
Determining Your Candidacy
Patients who have experienced significant bone loss, due to tooth loss or advanced periodontal disease, often require bone grafting before dental implants can be placed. Candidates for this procedure must be in good overall health, and should not have any medical condition that could impede the success of treatment. Any existing periodontal disease, infection, or other oral health issues must be treated and eliminated prior to bone grafting surgery.
Understanding the Procedure
Before beginning the procedure, Dr. Hughes will numb the area with local anesthesia to improve patient comfort during treatment. Optional sedation medication is available to increase comfort for patients who are nervous or fearful of dental visits.
As a fellow of the American Academy of Implant Dentistry, Dr. Hughes offers unparalleled experience and skill for your tooth restoration treatment.
Dr. Hughes will first make a small incision in the gums to access the jawbone structure. Next, the bone grafting material is added to the weakened area. There are different types of bone grafting material, depending on the patient's needs.
For example, an autograft is harvested from another area of the patient's jaw, while an allograft is purchased from a bone and tissue bank. A synthetic material, referred to as an alloplast, is also quite common, and mimics the natural structure of your bone tissues.
After placing the graft, Dr. Hughes repositions the gum tissue and closes the incisions with sutures. Generally, patients can resume normal activities within two to three days. However, full recovery usually takes several months as the grafting material bonds with the existing bone. Once healed, most patients are then able to undergo dental implant surgery.
Contact E. Richard Hughes, DDS
When it comes to restoring your smile, you should choose a dental implant and bone grafting expert. Dr. E. Richard Hughes is a Diplomate of the American Board of Oral Implantology / Implant Dentistry, and is one of less than 500 dentists worldwide who have achieved this distinction. If you are looking for the highest level of restorative dental care, send us a message or call (703) 552-5463.