Dentures Can Restore Your Ability to Chew, Speak, and Smile
Missing teeth can take an enormous toll on a patient's comfort, quality of life, and overall self-confidence. To restore functionality, aesthetics, and help you regain the confidence you need to show off your smile, Dr. E. Richard Hughes offers customized, durable dentures at our Sterling, VA, dental office. Past concerns regarding ill-fitting restorations are nearly irrelevant thanks to the great advancements in restorative dentistry in recent years. Modern dentures not only fit well, but they are also customizable so they look very natural.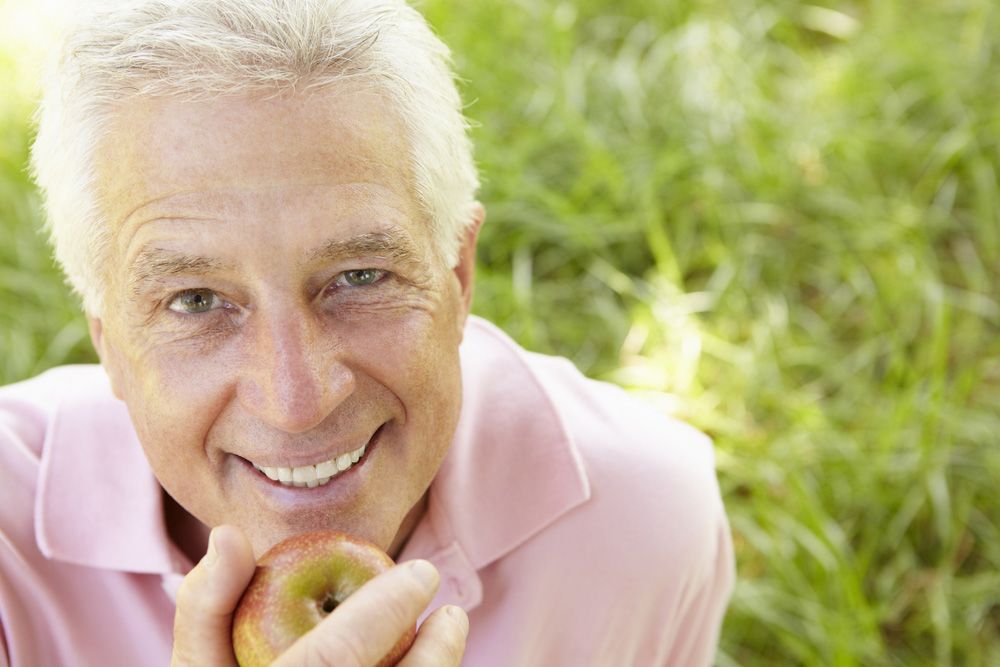 Modern dentures not only fit well, but they are also customizable so they look very natural.
About Dentures
Dentures are used to replace some or all of your teeth. Dr. Hughes offers both partial and full dentures. Partial dentures can replace several non-consecutive missing teeth, while full dentures can replace an entire row of missing teeth, or teeth missing from both the upper and lower jaws. Patients missing an entire arch of teeth in the upper jaw can choose between an open or hard palate. Open palates are held in place with a denture adhesive, just as full lower dentures. Hard palates are held in place with natural suction and do not require denture adhesive, but patients can use adhesive for additional support.
The "gum" portion of a full denture is typically made of either an acrylic resin or a flexible nylon polymer, and is customizable to match the natural shade of your gums. The prosthetic teeth are typically made from acrylic resin, however, porcelain is also an option. Both materials are customizable in size, shape, and shade, so that we can create the most natural look to complement your facial features. Dr. Hughes also offers implant-supported dentures, which are supported by dental implants and provide further benefits for your oral health and smile.
Denture Candidates
Almost anyone who is missing some or all of their teeth is a candidate for traditional dentures. To qualify for partial or full traditional dentures, you must be in good periodontal health. Some patients may require a tooth extraction prior to receiving dentures, and will need time to heal before we can fit the dentures. Traditional dentures are an affordable alternative to implant-supported dentures, and are a great solution for patients who do not qualify for dental implants treatment. Implant-supported dentures will provide superior benefits, but require that patients have sufficient bone tissue and room for implant posts.
Denture Placement Process
Together with Dr. Hughes, you will determine which type of dentures you need and select the materials from which your dentures will be crafted. You can also select the size and shape of the teeth, in addition to the shade of the teeth and gums. He will then take a series of impressions of your gums and any remaining teeth. We will send these impressions to our trusted partner dental lab where a skilled technician will create your dentures to our specifications. Patients may also choose to opt for dentures supported by dental implants.
When we receive your dentures, you will return to our office to ensure they fit properly. Dr. Hughes will carefully check to ensure they are comfortable and fit securely. He will also ensure that the dentures do not affect the alignment of your jaw. Your dentures should feel comfortable and look natural when the process is complete. If you are receiving implant-supported restorations, you will need to undergo a surgery and healing period before you can receive your new prosthetic.
Dentures restore function to your smile, allowing you to chew and speak with ease.
Benefits of Dentures
Modern, custom-made dentures can fit comfortably and securely, so you can worry less about them slipping out of place. Dentures restore function to your smile, allowing you to chew and speak with ease. They also have a very natural look, so you can smile confidently. You can enjoy a wider range of foods, increased confidence, and an improved quality of life.
Schedule Your Consultation
If you feel self-conscious about your lack of teeth, contact our dental office today to schedule a consultation with Dr. Hughes. He can provide customized dentures to restore your smile.