Achieve a Dazzling Smile with Porcelain Veneers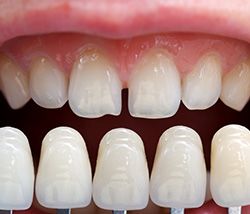 A beautiful smile gives you self-confidence and makes a great impression on everyone around you. Though few of us are born with perfect smiles, porcelain veneers can give anyone a smile that is symmetrical and dazzling. These thin custom-made shells attach directly to the front of your teeth, and they are crafted to look totally natural. E. Richard Hughes, DDS works with an outstanding dental laboratory to make sure your veneers look great, and he will make certain that your veneers are conducive to your bite alignment and comfort. To find out if porcelain veneers are right for you, contact our Sterling practice today.
Candidates for Porcelain Veneers
Porcelain veneers are a simple and effective solution that can effectively conceal:
Proportionately small, worn, or irregularly shaped teeth
Gaps between your teeth
Intrinsic dental stains
One or more slightly crooked teeth
Small cracks or chips
During your first consultation, Dr. Hughes will closely examine your teeth and determine your candidacy for this treatment.
Before placing your veneers, Dr. Hughes can create a wax-up or digital model of your teeth. In this way, you can experience a preview of how you will look after treatment, and you can determine whether porcelain veneers are the best way to meet your cosmetic goals.
Sterling, VA, dentist Dr. Hughes discusses the dramatic impact that dental veneers can have on your appearance. Crafted of the highest grade dental porcelain, these thin sheaths are virtually undetectable after placement. Here, the doctor lists the many cosmetic imperfections the procedure can conceal.
Porcelain Veneers Placement
To place porcelain veneers, Dr. Hughes will typically remove a very small amount of enamel from the front of your teeth. This step will involve anesthesia to maintain your comfort. Removing some enamel makes room for the veneers so that they lay flush with surrounding teeth for a natural look. If you are feeling anxious during this process, Dr. Hughes can provide nitrous oxide to help you relax.
Next, he will take impressions of your teeth, and he will send them to a dental lab. Technicians will use these impressions to create veneers that closely match your natural teeth. Dr. Hughes has worked with the respected Creative Dental Laboratories since the 1980s. They use the latest dental materials, so your veneers will have a highly lifelike appearance. Thanks to his long relationship with this institution, he can guarantee the outstanding quality of their work.
When the veneers are finished -usually in about two weeks – you will return to the office. Dr. Hughes will check their fit to make sure that they do not interfere with the balance of your bite. If there are no adjustments to be made, he will attach the veneers with dental cement. Finally, you can leave the office with a dazzling new smile.
Other Options
In some cases, Dr. Hughes also offers minimal-prep or no-prep veneers. These veneers are thinner, so the dentist will need to remove very little enamel, if any. In other cases, he may recommend a dental crown instead of veneers, particularly if you have a weakened tooth. If you have excess gum tissue (sometimes called a "gummy smile"), Dr. Hughes can combine gum contouring with veneers to give your new smile a beautiful frame. He will explain more about your treatment options during your initial appointment.
Schedule a Consultation
If you are self-conscious about small imperfections in your smile, porcelain veneers can restore your confidence. Contact our office today to learn more about this treatment.