Dental implants are often the best treatment for replacing lost teeth. Implants are safe, reliable, long-lasting, and offer many benefits. However, patients who have experienced jawbone atrophy may not qualify for traditional implants; these restorations require uncompromised bone tissue for support. If you have experienced some bone atrophy following the loss of a tooth, you may be able to receive mini dental implants without first undergoing a bone graft. Similar to traditional implants, mini dental implants provide a stable foundation for dental restorations, but they have a smaller diameter. At our Sterling, VA, practice, Dr. E. Richard Hughes places and restores mini implants, giving our patients an improved bite and enhanced quality of life.
Benefits
Mini dental implants provide many of the same restorative benefits as traditional dental implants. They prevent jaw atrophy following tooth loss and provide support for dental restorations such as crowns, dentures, or bridges, allowing you to speak clearly and chew efficiently.
For patients who have experienced bone tissue recession after tooth loss and do not qualify for traditional dental implants, mini dental implants are an effective alternative that can be placed and restored in just one appointment. The smaller post size often allows Dr. Hughes to place the mini implant without additional surgical procedures such as bone grafting or a sinus lift.
Dr. E. Richard Hughes places and restores mini implants, giving our patients an improved bite and enhanced quality of life.
Candidacy
Candidates should be in overall good oral health, free of periodontal disease or dental decay. If existing oral health issues are present, they should be resolved before receiving implant treatment. In addition, patients must be healthy enough to undergo oral surgery and recovery. Pre-existing medical conditions that could delay or prevent healing should be discussed with Dr. Hughes before treatment.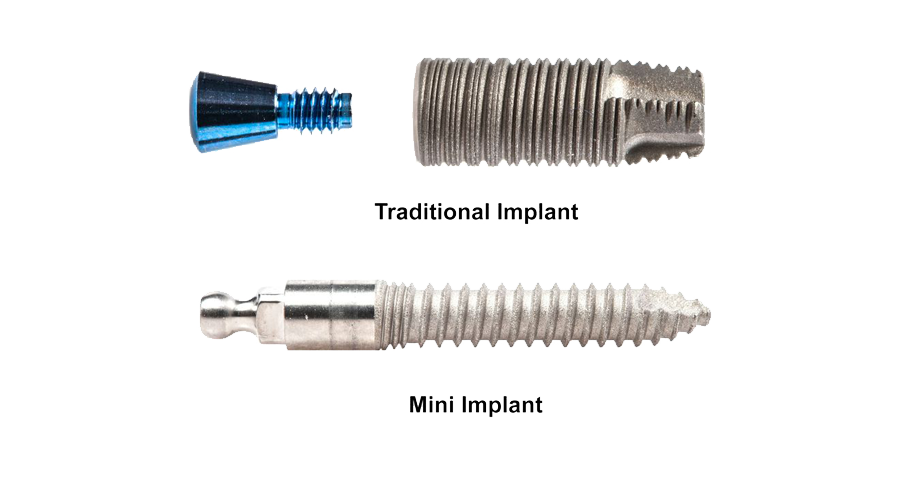 Mini dental implants are about half the diameter of traditional implants.
Traditional Implants vs. Mini Dental Implants
Traditional dental implants are about 3.5mm to 6mm in diameter. Due to their size, uncompromised bone density is required. Typically, a healing period of four to six months is required before the implant can be restored.
Mini dental implants are much smaller in diameter — about 2mm to 3.5mm. The entire implant piece can be placed in one appointment, and they are usually ready to support a restoration right away. For those patients who have experienced bone atrophy after tooth loss and do not desire or qualify for bone grafting procedures, mini dental implants may be a safe option.
Procedure
Dr. Hughes will numb the treatment area and carefully place the mini implant into the jawbone through the gum tissue. Usually, a temporary crown or other restoration can be placed immediately afterward so that you can leave your appointment without gaps in your smile.
Once your permanent dental crown, bridge, or denture is complete, Dr. Hughes will attach it to your mini implant and adjust and polish the restoration as needed to achieve a proper fit.
Learn More
If you have recently lost one or more teeth due to extraction, injury, or decay and are looking to restore a natural-looking, beautiful smile, contact our practice online or call (703) 444-1152. Dr. Hughes is an honored fellow of the American Academy of Implant Dentistry and is one of less than 500 dentists in the world to hold the title of diplomate of the American Board of Oral Implantology/Implant Dentistry.